Grow with Google
Through lockdown, many of us found that online tools have been a real lifeline. We've used them to find information and stay connected with our communities, support local businesses, teach our children and learn new skills ourselves. The same tools will be vital in helping countries recover more quickly and more sustainably. 
That's why Google is making a new pledge to help 10 million people and businesses in Europe, the Middle East and Africa (EMEA) find jobs, digitize and grow over the next 18 months.
Helping people learn new skills and find new jobs
Long before the coronavirus, it was clear the jobs of the future would require a new set of digital skills, so we launched Grow with Google to help people learn new skills. We were blown away by the demand, and by what people went on to achieve, and in five years we've trained over 14 million people in EMEA and 70 million around the world.
We've seen a tripling of demand for this training during lockdown. To help even more families, communities and businesses recover faster, we're investing in new, targeted programs. For example, we will be covering the costs for 100,000 people to take the Google IT Support Professional Certificate which prepares people for a career in IT. Fifty thousand of these places are reserved for under-served groups who otherwise face real barriers to learning (such as language, caring responsibilities or financial difficulty). Google.org will fund local nonprofits to provide the tailored support these people require to successfully complete the course.
To help people find new job opportunities, we'll launch our job search tool in more countries in EMEA. We are testing new features for the recovery—such as helping you find jobs that let you work from home. Job search is built in partnership with job boards, local employment agencies and others, like Pôle Emploi in France, Bayt.com in the Middle East and Monster.de in Germany, and it also helps them by finding job seekers with the right skills faster.
We've learned over the last five years that we need to do more to reach those whose existing jobs are most at risk of disruption by new technology. Two years ago, we allocated 100 million in Google.org grants, to be disbursed over five years to organizations across Europe, the Middle East and Africa that focus on digital skills and economic opportunity. Today, we're announcing that $15 million of that funding will go to nonprofits that help workers and small business owners who are technologically, financially or socially excluded with critical digital skills and access to jobs.
Helping local businesses get online and find more customers
As we come out of lockdown, and consumer spending picks up, we're upgrading our tools  to help more local businesses find and connect with customers quickly. Through Google my Business, it's easier for businesses to share their latest opening hours and information across Google Search and Maps. They can also shift quickly to new services and business models, such as pick-up, delivery and online classes and appointments. 

We are also investing in new programs to help industries hardest hit by the pandemic, including retail and travel. 
For retail businesses, online demand has grown exponentially, so they need to provide a great customer experience to be competitive. The improved version of Grow My Storehelps local businesses improve digital shopping, grow customer traffic and optimize online stores. Reaching new audiences by exporting abroad should be an easy option for every business regardless of size. 
Our Market Finder tool now provides export marketing and logistics help in light of COVID-19. To help retailers understand changes in demand, we're releasing a new interactive toolthat shares insights on fast-rising retail categories in Google Search, where in the world searches are growing, and the queries associated with them.

For the travel industry, we're partnering with experts like the UN World Tourism Organisation to launch training to help tourism officials across Europe, the Middle East and Africa understand and use the range of digital tools to attract travellers. This builds on our efforts to support tourism businesses across the region to help them grow with digital tools, get access to training and digitize heritage. 
Helping businesses work more efficiently and think differently
The crisis has accelerated trends that we'd expected to see over a longer period of time, like the use of AI and automation to help grow sales, reduce costs, and make better decisions. Research suggests that the European companies using AI most extensively are likely to grow three times faster than the average firm over the next 15 years, adding €2.7 trillion, or 19 percent, to European output by 2030.
To make this accessible for every business, we're launching our AI for business tool to small and medium businesses in Europe. The tool, in English, with more languages to follow this year, provides businesses with a personalised report recommending the most relevant applications of AI and the potential benefits, along with practical suggestions on how to get started. This is part of our commitment to build trust in AI through responsible innovation and thoughtful regulation, so that European citizens can safely enjoy the full social and economic benefits of AI.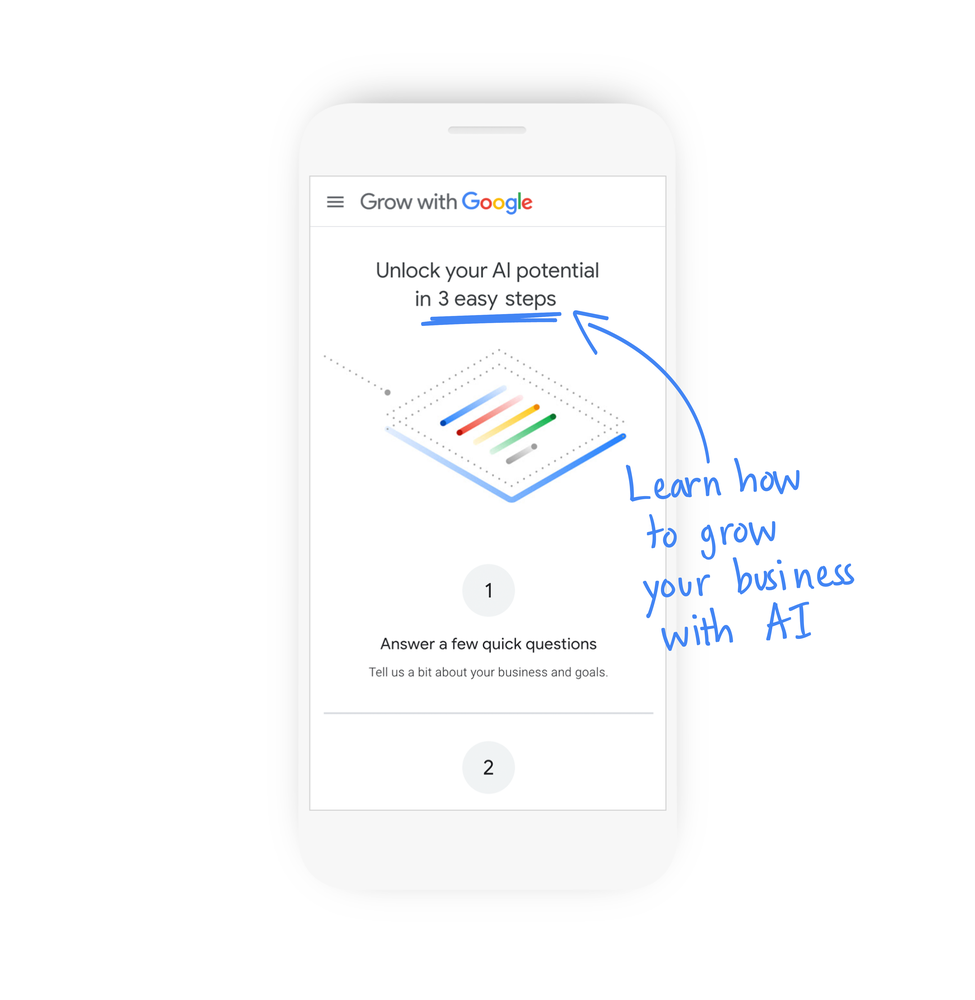 Financial support for local businesses
A digital transition cannot rely on technology alone: businesses need financial resources as well. That's why we announced grants and ad credits for local businesses a few weeks ago. And we've recently launched the ability for businesses in 19 European countries to add support links on Google My Business to give their communities the option to support them with donations and gift cards. We have also added several new partners to enable gift cards, including SumUp, LaFourchette, OptioPay, Rise.ai, and Atento. 
We remain fundamentally optimistic about the future, and about the role technology can play, and we're working with governments to help people, businesses and communities. Online tools, which have been a lifeline for many of us in lockdown, are now helping people find jobs and learn in-demand skills. If we work together, technology can be a lifeline for everyone as Europe, the Middle East and Africa look ahead to a sustainable recovery for everyone.
To find out more about these tools and programs, visit g.co/grow.
Add Comment